#6 - China, India and the prisoner's dilemma
Time for India to let go of a nationalist approach to its energy transition
Hello and welcome to this week's edition of Lights On, a newsletter that brings you the key stories on energy and climate change in South Asia.
If you like what you are reading, you can share this article or subscribe here:
Trouble at the border
Recent border standoffs have revived the longstanding tension between India and China
In the aftermath of the Covid crisis, India may have to let go of its rivalry with China - at least when it comes to climate and energy policy
India may have spent the last two months in lockdown, but the standstill in daily life hasn't granted a break from border conflicts. For the past few weeks, Indian and Chinese troops have clashed in the northern area of Ladakh, across the Line of Actual Control, the de facto border which separates Indian and Chinese territories in the Jammu and Kashmir region.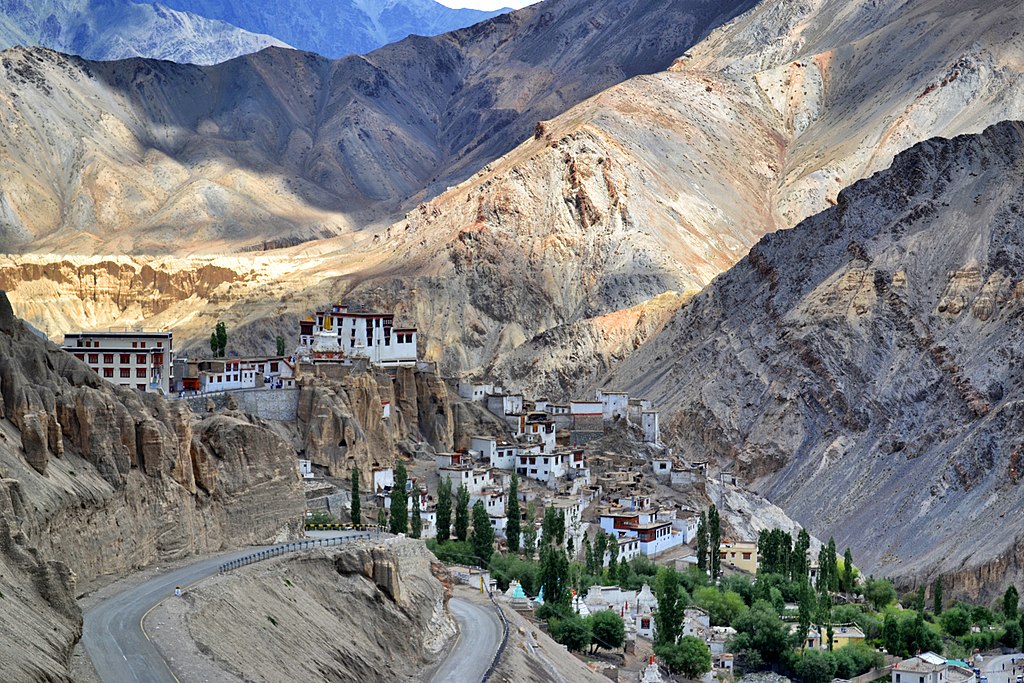 Lamayuru Village in Ladakh - Wikimedia Commons
Border tensions are pretty common in the region. Standoffs between India and China, at times involving small incursions or setting up infrastructure in each other's territory, are so frequent that in the news they are often relegated to short stories sandwiched between the latest on politics and business. This time though, the conflict has been longer and harsher, and despite signals from Chinese state media that tensions may start to defuse, for weeks observers worried this may be a repetition of the serious military incident that occurred in 2017 in Doklam, a strategic area where Chinese and Indian territories meet Bhutan.
What China and India have in common
While the military aspect is well documented, not many will remember that during the standoff, which coincided with peak flood season, China stopped the supply of real time weather data - crucial information for disaster response (If you want to know more about water wars across the Himalayas, don't miss this feature on Bloomberg Green).
This arguably small part of the story is a reminder of what China and India have in common, which is much more than tiny disputed territories. They share one of the world's most essential and fragile ecosystems, which provides water to 1.6 billion people, and is expected to deteriorate fast as climate change melts the Himalayan glaciers.
China and India are also among the world's bigger polluters, and their historical rivalry, which again runs much deeper than a border squabble, is reflected in how they choose to go about it. As the world tries to put the economy back on track after Covid, will their goalposts shift?
Rethinking climate policy post Covid
"Just because of the size of these countries, their growth rates and the potential future emissions, you have to understand how these two countries approach their emissions growth and energy flows in relation to each other," says Aditya Valiathan Pillai, a specialist in regional electricity trade with the Delhi think tank Center for Policy Research.
Climate is one of the biggest victims of Covid in the global diplomacy space, he says. At this point, "I don't think we can expect a great follow up to Paris at the next UN climate talks," he says. China and India are extremely important for the long term response to climate change, but "my sense at least is that we are moving in the wrong direction", and persistent border worries take away from the bigger need for cooperation on climate. "You have two leaders who'll likely be around for a while, and I just don't see them getting together and saying we're going to put our best foot forward on foreign policy with climate change and do this right."
Both countries remain married to the principle of 'common but differentiated responsibility', which requires developed countries - responsible for the lion's share of global emissions until now - to do more to mitigate climate change and let developing countries focus on improving living standards. But both countries are also signalling a commitment to energy transition - as a way to keep growing while reducing their climate impacts, India with its International Solar Alliance, and China with its booming EV and solar panels manufacturing.
Energy wars
Many see energy transition as the window of opportunity that could put India on a sustainable path, both from an environmental and economic point of view. While China is projected to remain the largest market for energy for the coming decades, by the mid-2020s India is expected to surpass China in terms of growth rate, accounting for over a quarter of the growth in global energy demand. Whether this new energy will come from fossil fuels or not will have a big impact on the global climate.
The good news is that India is investing heavily in renewable energy, hydro power and solar in particular, even though it's still a long way away from meeting its Paris targets. The bad news is that it's doing so with a nationalistic approach that could stunt the sector's growth.
To protect its solar manufacturing, India slapped a 25 percent duty on imported panels from China and Malaysia (where Chinese makers also operate). But instead of buying local, Indian developers started delaying the procurement of solar modules to bypass the duty, which lasts for two years. This was in 2018 and has been lifted this year, but the aggressive fight against cheap imports remains pretty much a priority for the government - and there is little indication that India will see a resurgence of solar manufacturing any time soon.
The prisoner's dilemma
Competition with China is trapping India in what in game theory is known as "the prisoner's dilemma". This occurs when two actors choose to protect themselves at the expense of the other, but end up worse off for it (more on Investopedia).
After Covid, India is under enormous economic pressure, and the government is promoting 'self reliance' as a way to overcome the crisis. In energy, this means boosting domestic production so India can reduce its oil and coal imports - but by trying to protect solar panel manufacturers India is hampering its own plan.
China is and will likely remain the uncontested leader of solar manufacturing, but India could learn to work with it instead of trying to snatch the crown, or just put a spanner in the works. There are other fields that will be as important as solar panels in delivering a global energy transition, but they are still in their infancy - the title is still up for grabs. Energy storage is one example: A lot of ambitious investments made today in India are counting on the price of large scale batteries falling sharply in the coming few years, and growing a robust storage industry would be key for India's self reliance - and challenge China's international standing in the field.
Hot in the region
There is a crisis in the coal industry - Opinion, Rohit Chandra, The Hindustan Times
The status of coal as king of India's power sector will not be ending any time soon; but it may also not be reasonable to expect India's coal industry to dream big in future, the author argues.
Uttarakhand workers return to revive traditional water sources, SANDRP
Heartwarming tale of resilience from rural India, where a group of migrant workers coming home from the city set out to salvage their water resources.
The Indian Coal Industry is getting a Makeover, Finshots
From the popular newsletter, a snapshot of the challenges that are reshaping the coal industry in India. Hit subscribe and thank me later!
New in the industry
Adani Green Wins World's Largest Bid to Develop 8 GW of Solar Projects
The Indian giant has secured a bid to develop solar photovoltaic (PV) power projects of 8 GW along with setting up a solar cell and module manufacturing capacity of 2 GW. The 5 year plan will involve an investment of around $6 billion, and 2GW are expected to be built by 2022.
A million-mile battery from China could power your electric car
The Chinese behemoth that makes electric-car batteries for Tesla and Volkswagen developed a power pack that lasts more than a million miles, an industry landmark and a potential boon for automakers trying to sway drivers to their EV models.
ReNew Power to acquire artificial intelligence and machine learning startup Climate Connect
Clean energy firm ReNew power has sealed a deal to acquire artificial intelligence and machine learning startup Climate Connect. The acquisition will integrate a series of digital services such as real time forecasting and energy market modelling across the energy value chain.
Hot from the world
90% Clean Grid by 2035 Is Not Just Feasible, But Cheaper, Study Says, Julian Spector, GreenTechMedia
Clean energy costs have fallen so rapidly that previously unthinkable scenarios now look like a good deal for the US.
'Final blow' to aviation climate plan as EU agrees to weaken rules, Chloé Farand, Climate Change News
EU member states will back an industry proposal to reduce airlines' climate obligations in response to the coronavirus pandemic, at the UN aviation forum.
If you've been forwarded this newsletter and you'd like to read it every week, you can subscribe below. Tip: if you add my address to your contacts, this email won't end up in the spam or promotion folder!