Lights On briefing: India's EV capital dreams and more
What you need to know to start the week
Happy Monday and welcome to Lights On, a newsletter that brings you the key stories on energy and climate change in South Asia.
Here's a selection of news to watch this week, plus a pinch of my confidential intel to help you anticipate what may come next. As usual, your feedback is greatly appreciated - let me know your thoughts by replying to this email, and follow me on @LightsOn_India.
Image credit - Wikimedia Commons
The EV capital of India
India's super polluted capital has a new policy to incentivise the uptake of electric vehicles across its roads. The Delhi Electric Vehicle (EV) Policy, 2020 notified on Friday by the chief minister Arvind Kejriwal, aims to "establish Delhi as the EV capital of India", focussing in particular on motorbikes and public transport. It includes financial incentives to replace polluting vehicles with electric ones, the establishment of a network of charging stations and swappable battery stations, as well as setting up a 'recycling ecosystem for batteries'.
Boosting India's clean grid
The Ministry of Power has waived charges and costs related to transmission losses within India's interstate transmission system (ISTS), for all solar and wind projects commissioned before June 30, 2023 - see the official letter here.
The measure will apply to solar, wind, and hybrid projects with or without storage, and the ISTS charges would be waived for 25 years from their date of commissioning.
Subrahmanyam пулипака @Rwanderful
In the last 12 months at @NSEFI_official NSEFI we have been continuously advocating for ISTS waiver extension beyond December, 2022 as it will go a long way to address many issues Indian RE developers and pave way for a high intensity RE penetration in India
August 5th 2020
If this sounds like a technicality, think that the waiver may have played a part in the success of the latest big solar auction closed last week with tariffs around 2.44 rupees/kWh. Another step towards India being able to boast the cheapest solar around.
Between a rock and a hard place
As the government imposes a new round of aggressive penalties on Chinese solar imports, developers behind the 34GW of solar projects already in the pipeline expected to be spared - given their budgets were calculated based on previously cheaper components. But the Ministry of Finance quashed their hopes, rejecting the 'grandfathering' proposal discussed in a meeting on Friday.
Developers may be able to apply for refunds at a later date, but in the meantime back of the envelope calculations says that, for the projects in the pipeline alone, the Ministry of Finance is set to bank $3 billion from the various import duties.
Not everyone is welcome
The escalation of anti-China measures continues, with restrictions on firms from countries 'that share a border with India' (aka China) that may want to take part in coal mine auctions. India has recently put 41 coal mines up for auction, hoping that foreign investors may help revive a struggling but essential sector, which currently provides more than half a million jobs countrywide.
Smog tower fiasco
Plans to tackle the coming much-dreaded pollution season in Delhi are lagging behind, and analysts say they would be ineffective anyway. Earlier this year, the Supreme Court of India had instructed Delhi to install smog towers across the city, following the construction of a pilot unit in the Lajpat Nagar neighbourhood. Months later, the April deadline set by the apex court has been missed, and the project could take another 10 months.
More worryingly, the Council on Energy, Environment and Water (CEEW) reckons that the idea is not feasible in the first place - peppering the capital with smog towers would be too expensive and just plain useless for the scale needed.
Smog towers are white elephants that will not fix Delhi's air pollution crisis. #Delhiairpollution #cleanair #Mission808080 @airqualityindia @UrbanEmissions @CBhattacharji @someshjha7 @GhoshArunabha @KarthikGanesan6 @tanushree_g @KurinjiSelvaraj Watch CEEW analysis 👇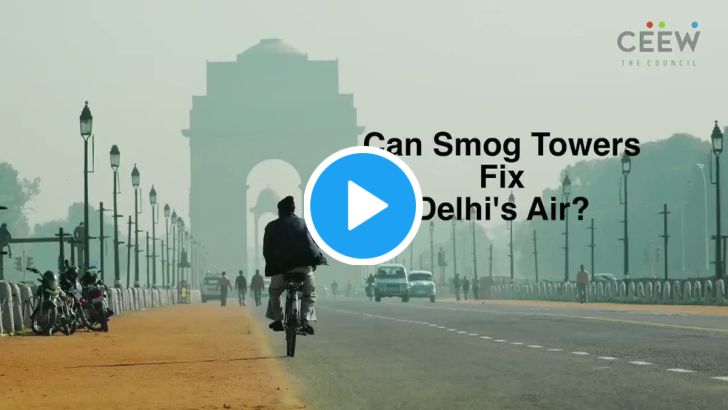 49 Retweets61 Likes
Pakistan's big railway plans
In a boost to its partnership with China, Pakistan has approved its most expensive project to date under the China-Pakistan Economic Corridor (CPEC) initiative. The project will involve a railway upgrade worth $6.8 billion. The investment will allow Pakistan to increase the number of trains covering the route, as well as doubling their speed. Better railways will enable a faster and cheaper transportation of imported fossil fuels towards China - but the new agreement will plunge Pakistan into greater debt.
Bangladesh ramps up climate investments
Bangladesh will set aside the equivalent of 2.5 percent of its GDP until 2030 to finance its long term climate response master plan, the 'Delta Plan 2100'. The Bangladesh Delta Fund will help realise 80 initial projects within the next ten years. Of the projects, 65 are related to physical infrastructure and 15 to institutional capability, skill development and research, involving $37 billion of investment, according to the news agency United News of Bangladesh.
In the past, the Bangladeshi government had sought foreign funds to finance the plan, but the change of strategy suggests the support needed failed to come through.
Research and other readings:
The Curious Case of India's Discoms - In this paper, researchers at the Institute for Energy, Economics and Financial Analysis (IEEFA) dissect the landscape of electricity distribution across India and suggest that a stronger renewable penetration could help fix "the weakest link in the entire value chain of the Indian power sector".
Check out Green Rocks, a newsletter focussed on how minerals will play a part in the clean energy revolution. This week, journalist Ian Morse has a story on China's dominance in the aluminum and bauxite markets.
An important deep dive on what the 'round the clock' energy revolution in India looks like in real life. By Nihar Gokhale in Mongabay.
That's all for today! If you are a subscriber, watch out for the story of the week on Thursday. If not, you can sign up below. As usual, you can get in touch with comments and confidential tips by replying to this email.