The Weekend Read: Why are foreign investors ditching Indian renewables?
In conversation with IEEFA's Tim Buckley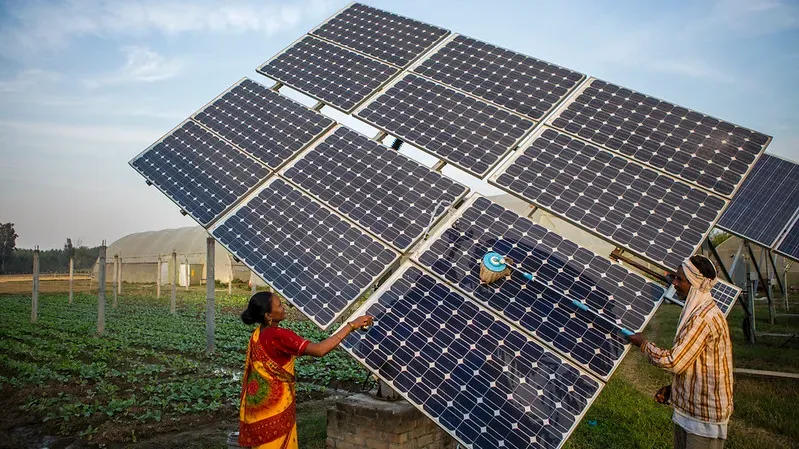 Welcome to this weekend's edition of Lights On, a newsletter that brings you the key stories and exclusive intel on energy and climate change in South Asia.
In case you missed it, check this week's story on why India needs to radically change the way it prepares for - and responds to - cyclones.
If you are not a subscriber, you can sign up below, for free, or you can support my work by purchasing a membership:
India is renowned for its bold renewable commitments and welcoming market. Just this week, the consultancy EY ranked the country as the third most attractive market for renewable investments. But this week India also lost one of its biggest foreign investors in renewables. The Japan-based SoftBank Group sold its 5GW renewable energy portfolio, worth $3.5 billion, to the Indian Adani Green Energy, exiting the country for good. The move has raised doubts about India's ability to remain an attractive space for foreign investment in the clean energy sector for the long term. At stake is the success of its energy transition. I chatted with Tim Buckley, director of energy finance studies at the Institute for Energy Economics & Financial Analysis (IEEFA) in Sydney, to understand what's gone wrong and why.
Lights On: India is considered one of the most attractive countries for global solar investors. What has India been doing right so far?
Tim Buckley: India is definitely a key focus market globally for investments in renewable energy infrastructure. And that comes down to a number of factors which are, by and large, very positive. One, India has a very large and growing economy, and along with economic growth comes a sustained growth in energy demand. So it's a very large market, and there are discussions globally on how, particularly in the OECD, investors want to deploy literally hundreds of billions of dollars of capital and India can accommodate it.
So the big question is, where do you actually deploy billions or even trillions of dollars of capital in a way where there is an appropriate risk adjusted return expectation? Because when we're talking about renewable energy, we're talking about infrastructure investing. And so one of the very key aspects of India is the 25-year, central government-guaranteed return with cash flow payments certainty.
How does this guarantee system work?
Well, one of the key problems that the Indian electricity sector has had is that the state governments control the distribution of electricity, the discoms. Now, a lot of those discoms are entirely unbankable. They are not financially robust, and as a result, they are not credible [business partners], particularly for foreign investors. But even domestic investors in India aren't willing to take the risks of the discoms and the states actually honouring their commitments. And so a key change came through around 2015 when the Ministry of New and Renewable Energy and SECI [Solar Energy Corporation of India] set up a scheme to provide a central government guarantee. They said if the discom doesn't honour the PSA [purchase and sale agreement] that's attached to the PPA, the power purchase agreement, then SECI will provide a cash payment guarantee.
Now electricity is a state system rather than a central government system. [But] SECI is a central government authority, and the first thing they did was to lend the central government's credit rating to purchasing power for solar. And because finance is such a key element, you lower the cost of the finance by having the central government [involved], you get a lower tariff and everyone's a winner. That only works as long as SECI is the counterparty to the solar tender. A lot of it is not just 'we will give you cheaper finance'; states have to comply with some of the central government requirements like funding the subsidy of the electricity by the state, improving the transmission and distribution losses, transparency, accountability. So some states have done it, and have benefited handsomely. Other states have not complied.
In this scenario, why has SoftBank decided that the risk wasn't worth it?
SoftBank had proposed to invest huge amounts, up to $20 billion of long term capital in Indian renewable energy projects, going back five years. But as they've come into the market, we've seen repeated record low solar tariffs. So their first solar tariff was signed at just four and a half rupees in 2015, then it was 2.7 rupees in 2018. Towards the end of 2020, it was down at two rupees. So there's been massive price deflation. But the trouble with that massive ongoing price deflation has meant you've had a fair number of tender awards undermined, cancelled or delayed, because the discoms and the counterparties didn't want to be locked into a high priced tender outcome now that the prices have moved substantially lower.
So the inability of SECI and the Ministry of New and Renewable Energy to honour awarded contracts has been very problematic for international investors. The issue is [when] an international investor investing in good faith wins an award, but then SECI turns around and goes 'but wait until we sign a PSA with a discom, the PPA is not binding'. That would be fine if the process took a month, but it's been taking up to 24 months. And so the longer you go on, the more deflation occurs in solar and the less likely that discoms will honour the tender agreements. And so there is an issue of investor risk or sovereign guarantees that has come into this whole process. And India's low risk long term policy certainty has been undermined by the inability to honour contract awards.
Enter the pandemic...
The Indian economy in the last two years has been impacted by a slowdown that was not anticipated and then by the pandemic, and so for two years now, energy demand in India has been flatlining. Now India had set its ambitious 450 gigawatt target for solar and renewables on the premise that Indian energy demand would continue to grow robustly each year. One of the reasons that SECI and the Ministry of New and Renewable Energy haven't been able to award the tenders is because the discoms haven't needed more electricity supply, because there is no demand growth. So the pandemic has prolonged a period where the discoms haven't signed [any] new electricity contracts; whether it's a wind, solar or coal contract is irrelevant. They didn't need any new supply, because we have oversupply and a lack of demand growth. So that has extended the contract uncertainty and the contract delays.
Would you say that SoftBank exiting India is a sign that governance issues in India are starting to have a chilling effect on foreign investors at large?
I think it's having a chilling effect for sure. And at end of the day, the Indian government has to recognise that the consumer, and economy more generally, stand to be massive beneficiaries from foreign investment in new Indian infrastructure at record low prices, but that will only occur if contractual certainty and investor confidence and policy stability remain in place. So, we have seen solar tariffs drop very significantly, and I'd forecast they will continue to drop significantly over the medium to long term. I would expect Indian solar tariffs to potentially be down at one and a half rupees within the next five to 10 years. That is a logical outcome. But it will only occur if the awards that were made at 2.5 rupees are honoured, and the investors get the return that they were expecting.
Are there any other hurdles to that?
SoftBank has been stymied in its investment plans by the inability to secure land and grid connections. Now, that's particularly difficult for foreign investors - while local investors have a better understanding of the ways and means of getting [land deals], foreign investors like SoftBank may want to deploy huge projects, worth half a billion, a billion dollars, only for the project to be unable to go ahead. That's either because it couldn't get a legally binding PSA, but also it's often because they could not get the land to build that billion dollars worth of solar on.
So land acquisition and grid connection is definitely a key lesson for the Indian government, for SECI and for the states, to realise that if they create contractual uncertainty, if they fail to deliver land they've promised and if they fail to give the approval when they've said they will, that introduces contractual risks that will definitely deter foreign investment.
---
That's all for today! If you like what you read, please consider signing up for free or as a member: